Ambrosus Blockchain Ecosystem
As the world's premier blockchain and IoT platform, the Ambrosus Network (AMB-NET statistics here) provides a framework and all of the relevant tools for collecting, storing, and sharing data in a secure and integral fashion. In relation to the Internet of Things (IoT) Ambrosus pioneers first-of-its kind encrypted IoT devices and gateways, that allow for secure and efficient data collection from the physical world.
Meanwhile, the public-permissioned blockchain architecture of AMB-NET has been specifically optimized to scalably and securely store and validate all data uploaded onto the network. With its own proxy establishing a link between the world-wide web and the Ambrosus blockchain, custom applications can be quickly and effortlessly written and monetized in popular programming languages such as JavaScript, iOS, and Android.
Complacent to multiple other ongoing collaborations, in 2020 we have launched pilot projects with quality control company QSS Global and crewing agency Navis Crew Management who will leverage our Native Blockchain AMB-NET for secure data management. Furthermore, our company has been selected as partner to the United Nations 10YFP Sustainable Food Systems and also recognised as one of the Rising Stars by the EU (EIT), one of only 15 companies in Europe to receive such an honour.
We resolve 4 main issues for manufacturers and logistics companies:
Proof of product origin
Secured immutable storage of quality and shipment documents
Easy tracking of your assets
Decentralized collection of all important statistics about supply chain process and final consumers.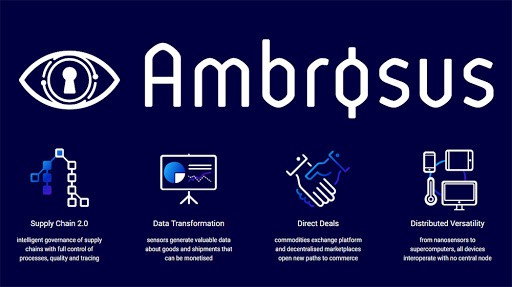 Secured validation and storage of your daily important information on Ambrosus Blockchain Eco-System.
Building other entrepreneurial solutions over Ambrosus Blockchain Ecosystem (Amb-Net)