Humanner – Collective Holistic Social Innovation Ecosystem Management
By the Humanner Cooperative Social Business Ecosystem model give financial self-sustainability and emerge the digital infrastructure to connect informal market, unlock the power at the bottom of pyramid, and deliver economic prosperity.
"A charity money has only one life. A Social Business money can be invested over and over again." (Muhammad Yunnus)
Linking science and technologies to communities of our global society. Humanner's social R&D focus on interweaving new models so smoothly and seamlessly into the currently prevailing system, that it will not be perceived as opposition, but rather as a higher quality competitive model, which gradually replaces the old one.
Our method is to create a high-quality example while showcasing our understanding of what it means to be human.
Humanner's system work with a MULTI FUNCTIONAL holistic multisolving approach so that make the investment more impactful. Single investment of time and money – Defined as a way of solving multiple problems with the multisolving approach brings together stakeholders from different sectors and disciplines to tackle public issues in a cost-efficient manner
Humanner unite the two biggest volunteer sectors the Open Source and the Non Profit sector into a Social Business Innovation Ecosystem. We aim to explore how open source software, open source hardware, digital maker practices and open design can be effectively used by local communities to fabricate their own tools, make sense of their environments and address pressing environmental problems.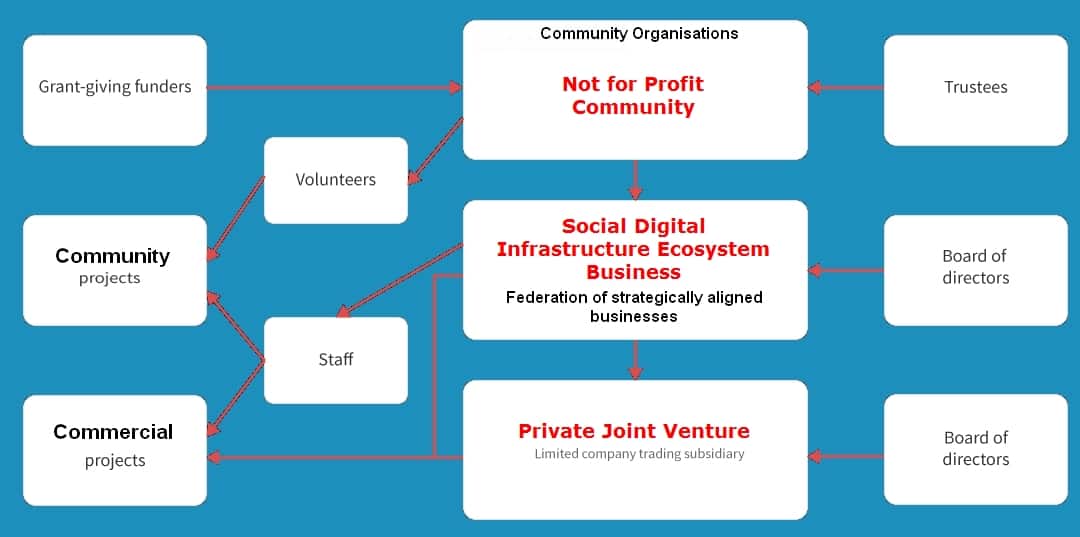 The plan is an IT system that not only covers agricultural products, but can cover all areas of life on which today a huge industry is built, although it would only be necessary for people with different abilities living in the area to find each other ( local industry, organization of community goals, etc.). The purpose of the system is to store actors and establish relationships, the "professional content" is included (and owned) by those working in the field, farmers and social shops.
But if we use – suppliers – instead of "farmers" as it could be the SOCIAL store close to my home providing me groceries. Suppliers can provide services too (We believe there will be a change on many personal care services, that may be offered at home instead at a place. E.g. barbers, manicure, etc.). Consumers can be regular people, but also some suppliers buying raw material from other suppliers (restaurants, small stores, etc.). Call logistics all the logistic to deliver from suppliers to consumers. Logistics could be chosen by any of the parties (E.g.: I like John to collect my shops from different stores and to deliver it to me; Mary works for supplier X delivering its products to its customers. For logistics, a list of available professionals should be enough for the consumers to choose or they can agree with the supplier transportation offering.
The IT system ensures that producers and shops are in contact with each other, process orders more easily, keep stock of goods and expected imports.
The farmers would have the flexibility to use the system directly, but that a kind of "dispatch center" would be needed to arrange and, where appropriate, transport the products also the system really supports the farmer even selling his crop on his own farm.
In addition, which is already a "climate" topic, and a rather cumbersome proposition, but: the obligation to include the surcharge on the environmental impact of transport in the price of the product can be included in the system even if the buyer goes for it. Which obviously means that if I go for it, it will be more expensive than in the store, because 10kg of fries will travel with me, a shipment of 5 tons from a shipment will take me to the store …
What does the system give in return?
First, its existence.
Operating a truly nationwide store network cannot be solved other than with a fairly serious IT support – for example, a new store will see and use the same system as all the others at the moment of opening.
Second, a service that we expect today, which is more than what stores know.
I can see where the stores are, I can pre-order products so I just have to go for it. I can order products from the store that aren't right there, but I see them in the national product list – all from home, but also in the store, with the help of the seller, who doesn't write my request on plaid paper, but also after typing. he says when he will be there and where he comes from. Home delivery can be arranged in the same way …
Third: protection.
If the social shop network forces the big ones into real competition, they have to be prepared for a lot of things – for example, buying crops in a given area and forcing the network to deliver, price struggle, media. Tesco, Auchan, etc. won't get out of here on their own, multis won't give up the food market easily – they have a lot of money in it. This can only be won if farmers, buyers and the network that connects them form a real community and ignore their current financial interests, through which they are likely to be attacked. If you like: the system provides security, a real vision for the 21st century (say, in this respect, "local product network" might be more expressive than the name "social shop" …)
It maybe you don't see a direct conflict with supermarkets because it will never be a such volume that would affect them; they can be a supplier inside Humanner platform (from small grocery stores to big supermarket players) as we are offering logistics to consumers, so consumer A can hire logistic Y to deliver its supermarket needs. They do this because they trust logistic Y to pick up fresh vegetables, better fruits, etc. There is the human touch on that part, from a community person.
But our strategy improve and protect the contribution of local suppliers and communities so we need calculate with any other external effects also.