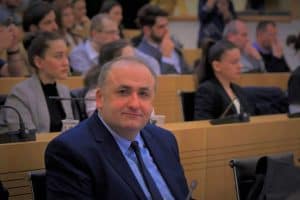 Dr. Kakha Nadiradze as President of the Association for Farmers Rights Defense, AFRD Georgia is a certified practitioner of Agriculture, in the field of Food Safety, Environment protection, Plants and Animals AgroBiodiversity conservation. He received multiple awards from FAO and other International Organizations. Dr. Nadiradze currently serves as Country Representative and National Coordinator Southern Caucasus Countries of the Coalition for Sustained Excellence in Food and Health Protection, CSEFHP. His research work is connected on quantitative and qualitative GMO Analysis.
His current research interests connected with BioBanking for conservation of Agrobiodiversity. Dr. Kakha Nadiradze, an accomplished executive whose distinguished career in high tech spans the public, private, and nonprofit sectors, has been appointed as Task Force Member of the Global Genome Biodiversity Network, GGBN. In addition, he has held key roles in Government; he worked as Leading Specialist of the Agrarian Issues Committee at the Parliament of Georgia. He worked on the position of Director of the Biotechnology Center of Georgia at the Ministry of Education and Science of Georgia for the life Sciences. He was Head of the Department of the Sustainable Development of the Ministry of Economy and Sustainable Development.
He is an author of a large number of analytical publications and has been a speaker of Local and International conferences and workshops. He works on Pre and Post Harvest Loss Prevention innovative methodologies and technologies, provides Farmers Training programs. Memberships: He is a Member of International Organizations and Networks, Research Groups: Country Representative of European Association of Environmental and Resource Economists , EAERE, Member of EuroScience, Public Research and Regulation Initiative, PRRI, Honorable Board Member of the Advanced Materials and the Applied Nanotechnology Group, AMANTG Nobel Project, European Biotechnology Federation, EFB, Planta Europa, DesertNet International (UNCCD-United Nations Convention to Combat Desertification), Greeneconomy Institute (Oxford University), International Food and Agribusiness Management Association, IFAMA, Entrepreneurship Research and Education Network of Central European Universities, ERENET, European, Middle Eastern & African Society for Biopreservation & Biobanking, ESBB and International Society for Biological and Environmental Repositories, ISBER.
He serves as a member of the Advisory Group with the Ministry of Health and Labor of Georgia and coordinates several R&D programs and participated in the development of regional agricultural policies in Georgia. He is an Expert of The Intergovernmental Platform on Biodiversity and Ecosystem Services (IPBES) Capacity Network Coordinator for the Biodiversity and Ecosystem Services Network (BES-Net) – United Nations Development Programme, Member of the Global Environment Facility, GEF, Member of Groupe de Bruges, GdB, and Club of Ossiach. Member of Global Risk Forum, GRF and Global Genome Biodiversity Network, GGBN. Also Global Universities in Distance Education – GUIDE Association