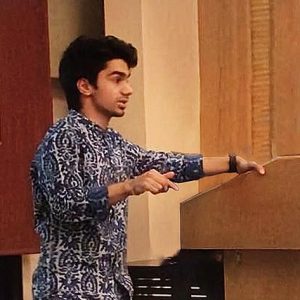 Parth went from a school student to a 6-figure business owner at the age of 14 with several honours from Governments, ministries, organisations with features in ample media channels. Parth started his ventures independently, from ground zero, self-taught himself & believes in the mindset of spreading the same spirit of entrepreneurship, creativity & knowledge to empower more individuals & individuals, primarily his age. Parth believes in disrupting the traditional systems of education, growth & career in the long term.
Parth is a 17-year-old entrepreneur & has extensive knowledge in the fields of Blockchain, Artificial Intelligence, Gaming/Electronic Sports, Neurotechnology, Neuromarketing, User Experience, Business Execution, Mass Media & Public Speaking.
Parth is the Patent Holder, CEO & Owner of Project Threely, Threely drastically bridges the gap between blockchain & its adopters by providing an identifier to blockchain wallet address which makes interacting with them extremely convenient & fluent. Threely's mission is to provide reliable and streamlined blockchain-based exchange services to everyone with the maximum ease possible.
Parth's is the founder of Project Hetu, an accelerator for a non-profit community of creative individuals & organisations who seek to solve problems, network professionally, collaborate on projects & make the world a better place. Project Hetu is associated with ample supporting services, mentors & investment funds.
Parth, through Innovate Future focuses on promoting startups & young entrepreneurs around India through skill-building workshops, seminars & sartup programs. Parth's projects & innovations have been addresses on various media platforms like Rajasthan Patrika, TOI, F6S, StartupBootCamp, & more.
Parth & his initiatives are associated with Delhi's Ministry of Education helping them promote Young Entrepreneurship & Skill-building in students as well as DOIT&C of Rajasthan, India.
Parth is also the board member of Learning Hotspot Initiative (Peer-to-Peer Learning) which got an invitation on board by Rajasthan's Chief Minister Vasundhara Raje & Team at Rajasthan's biggest Hackathon – Digifest Udaipur.
Parth got invited into Microsoft Student's Partner Program at the age of 17, being the world's 4th high-school student selected into Microsoft's Initiative. Parth's on-growing interests in the field of Blockchain, AI & Gaming is helping to generate more awareness on the latest tech through seminars, workshops, hackathons in enthusiasts.